Divider Block System Design Forms
NEW: The High Speed Compressor forms now include an optional section for evaluation of your current compressor high pressure lubrication configuration.
To get started, select a compressor type below and then open the design form that best matches your compressor system. Fill out the required information and submit the form. We will contact you shortly after to continue the design process.
If you have problems finding the required information you can call us directly and we will assist you in completing the form.
High Speed Compressors
Radial Compressors
Ajax Compressors
Rotary Compressors
Integral Compressors - Inline Compression Cylinders
Integral Compressors - Opposing Compression Cylinders
Compressor Divider Block System
Design and Install Services
Patton is a world leader in the design of high pressure lubrication systems. Excess lubrication to your system is an expensive waste of money and an environmental concern. Inadequate lubrication will cause premature parts wear and often leads to costly system downtime.
At Patton, we make use of advanced system data to determine the most effective and efficient amount of lubrication for each part in your compressor system. Our designs also utilize the latest technologies to protect your lubrication system from failures.
Our highly trained and experienced field service teams will install your system fast and effectively. We stand by our installations with a 30 day warranty against leaks and defective tubing. All of our Patton parts are also covered with our full 24 month warranty against defects.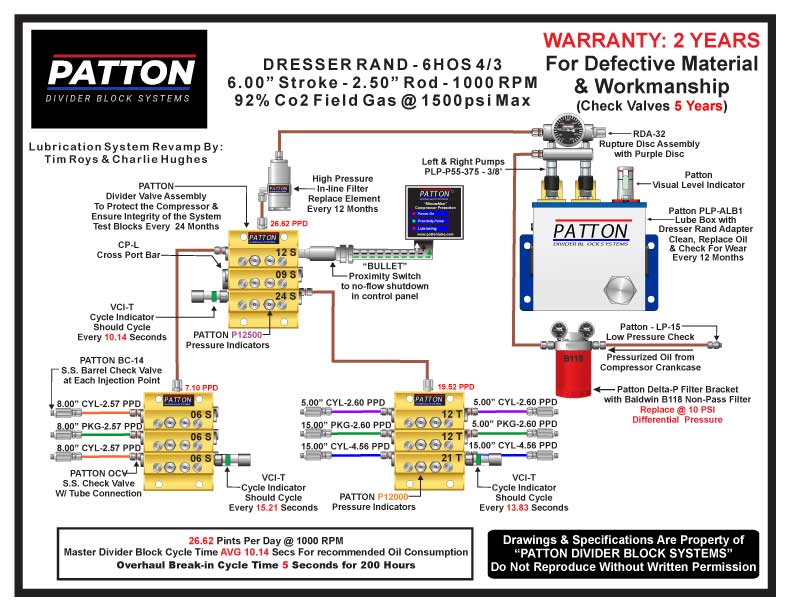 Sample design diagram (click to expand or contract)